Product Description
Details
Vass are pleased to introduce the Junior Vass-Tex 600 Series Waders. The Junior Vass-Tex 600 Series wader range is probably the highest quality Junior Wader on the market.
These are just some of the improvements over other junior waders on the market:
Sturdy chunky wellington boot
Vass-Tex 600 (PVC/Polyester material)
Wider elasticated braces
Chest wader safety draw-cord
Chest internal pocket
Studded or non studded sole options
Features:
Box stitched brace loops
Quad-Welded seams for ultimate strength
Inside pocket and draw-cord
Easy Repair Material (see website for repair instructions)
Sizes:
UK 3 / Euro 36
UK 4 / Euro 37
UK 5 / Euro 38
Wader Codes:
VA600-70J Non Studded
VA600-71J Studded
Additional Information
Additional Information
| | |
| --- | --- |
| Gallery ID | N/A |
| Gallery Color | N/A |
| Gallery Background Color | N/A |
| Thumbnail Color | N/A |
| Thumbnail Background Color | N/A |
| Gallery Columns | N/A |
| Gallery Rows | N/A |
| Position gallery on page (custom selector) | N/A |
| Follow up email call-to-action text | N/A |
| How the galleries should be sorted | N/A |
| Minimum entries to display the gallery | N/A |
| Hide participant attributions | N/A |
| Hide submission date | N/A |
| Preview testimonial on hover | N/A |
| Preview rating on hover | N/A |
| Show gallery on product page | N/A |
| Enable Duel post-purchase email | N/A |
| Minimum entries | N/A |
| Maximum entries | N/A |
| Minimum width | N/A |
| Maximum width | N/A |
| Priority for this rule | 1 |
| Minimum entries | N/A |
| Maximum entries | N/A |
| Minimum width | N/A |
| Maximum width | N/A |
| Priority for this rule | 2 |
| Minimum entries | N/A |
| Maximum entries | N/A |
| Minimum width | N/A |
| Maximum width | N/A |
| Priority for this rule | 3 |
| Show on JSON product feed | Yes |
| Position gallery on page | N/A |
Customer Blogs

"I push net, dig bait and fish in my 'Vass SuperNova' waders, they are without doubt the best PVC / Rubber waders on the market, and these are the reasons why. They are totally comfortable, allowing me to bend and kneel with ease, the Double layer on the knees cushion me from the ground as well as add strength, and the waders don't restrict my movement , speed wins matches , these waders don't slow me down . The straps adjust easily and are comfortable even over just a thin t-shirt and most important of all they don't restrict my upper body when casting. The straps are elasticated but unlike some other brands they don't need constant adjustment, once you set them they stay set .The boot part is tough with a thick sole offering plenty of grip, strength hasn't compromised the comfort on your feet, walking distance in these boots is no problem.
When I'm fishing in my waders I am warm and dry whatever the weather, keeping me alert and allows me to concentrate 100% on fishing the match
Callum Graham (England Junior Fishing Team)"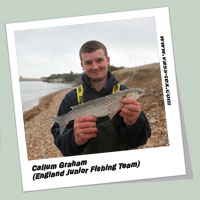 "I have to say they are the best waders that I have owned over the many years that I have been fishing.
I always buy quality waders and have owned many pairs of Ocean waders studded and non studded, I noticed over the years that Oceans quality has dipped thinner rubber and the last pair I bought were very snug fitting. However the Vass wader I have worn to death and found them to be the best waders I have ever owned. Hard wearing soles and the extra room in the body for those that are carrying a bit of extra padding is fantastic! The upper chest draw-cord and also the detachable straps, again, is a great idea so you can role the waders down to your waist and secure using the unique Vass braces as a belt with no problems. Additional reinforcement on the knees is also a great idea as with previous wader I have found that I put holes through them when kneeling down.
Blog from Andy Bunston (Sept 2011) on Vass-Tex 740 SuperNova Chest Waders"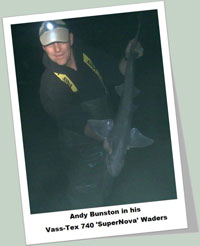 "For the past six months I have been using the new Vass-Tex 'SuperNova' Chest Waders, and I am very impressed, good strong reliable waders. The benefits I have found with these Vass chest waders are the reinforced knee area, Velcro storm flap on the internal pocket (to stop phones, clippers etc from falling out when bending over very important when stood in water) and the studs on the soles of the boots are superb, giving excellent grip on slippery surfaces.
I would recommend these to anyone thinking of purchasing a new set of chest waders.
Joe Arch. 2011 World number 1 'Shore Surf Casting (CIPS)'
Blog date: Sept 2011"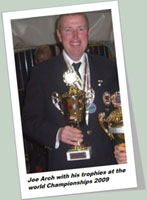 "Earlier this year following discussions with a former well established company (Vass Rainwear & Waders) who were trailing a new style of chest wader. I was really pleased to be sent a pair of studded chest waders to put through the daily rigours of hard competitive match and pleasure angling.
The knee areas on the front have been 'reinforced', this is a brilliant improvement as over the years this has been an area, given the varying grounds, that anglers face in the UK the strain on the knee area of other waders caused damage. I can now confirm that the modification has much improved the product given the user plenty of confidence when kneeling down and scrimmaging around the rocks when collecting bait.
The internal pocket has also been improved especially when faced with severe conditions it allows you confidence to know your keys/Mobile will stay dry no matter what weather is thrown at you.
Finally and most importantly the boot has been improved that to me is the most important part of the regeneration of these fine Chest Waders coupled with studs they are brilliant, well done Vass
Mike Flynn, Welsh Federation of Sea Anglers
Blog from Mike Flynn (Sept 2011) on Vass-Tex 740 SuperNova Chest Waders