Embroidery Printing for Clubs and Teams
About
Vass also have an embroidery and print division based at headquarters in Milton Keynes, England. This division services contracts for the likes of VW, Audi, Karndean Flooring, Bentley and Mercedes Benz to name just a few. Due to a growing demand for Team, Club and retail outlet uniform Vass have now extended these services to include the sport and leisure fishing market.
These services are available via official Vass stockist.
Capacity
With 5 printing machines and 12 embroidery heads Vass are equipped to run from 20 to 10,000 garments to a very high standard. Capacity from our U.K site alone is 5000 garments per week!
Due to the high quality and technical materials incorporated into our ranges Vass recognise that it takes additional care and modern machines to ensure the logos are professionally applied without compromising the materials/garments.
Make an enquiry
To make an enquiry contact you preferred 'Vass stockist' with the following details (please note Vass only supply via stockists).
Your Club or Team
Garment type/code
Embroidery or print?
When is the kit required?
Logo example image (please provide artwork via attachment) or text only
Position, size & colour of logo
Quantity required (minimum 15 per run)
Lead times (estimated, lead time vary depending on the work involved and production bookings)
New logo setup time 3-6 working days from receipt of workable logo/artwork
Production lead times vary but usually 10-15 working days from logo sample approval.
Vass also supply many other garments which are not featured on our website (inc Polo shirts, fleeces, T-shirts, Cap etc). If you have specific requirements please e-mail us images of what you require and we'll forward images & details of garments that we can offer which may suit.
Additional clothing and headwear available for logoing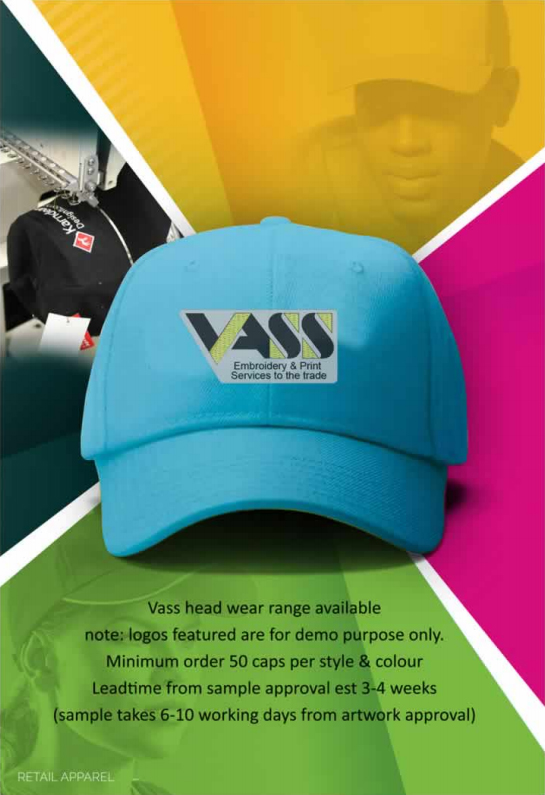 Vass Headwear Catalogue